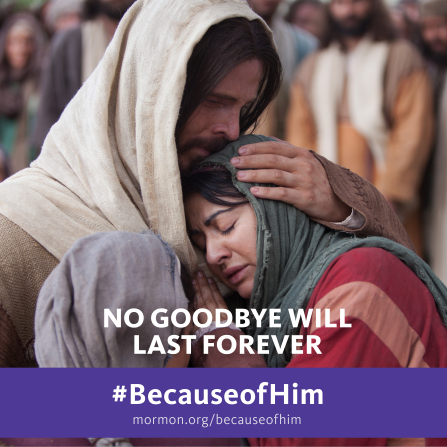 Now this, from today's
suggested RS reading
- From a message by Pres. Monson,
He is Risen
. A scripture that shares some differences between earth life and eternal life.
Revelation 21:4
4
And God shall wipe away all tears from their eyes; and there shall be no more
death
, neither
sorrow
, nor crying, neither shall there be any more
pain
: for the former things are passed away.
In a small way this scripture comforts me, even helping me know that my sorrow and crying in this life, even if it lasts for my whole earth life, is okay. It's even part of the plan, but then it will be gone and joy will fill it's place.
This time of year and the celebration of Christ's Atonement and Resurrection brings on many emotions. It is a wonderful reminder of the love our Heavenly Father has for us and the Plan of Happiness that we are living.
Because of Him, no goodbye will last forever.
And because of Him, the sorrow and crying will not last forever.
That fills my heart with joy.